Learn the skills to become a oil heat systems technician
Program: Oil Heat Systems Technician
Schools:
Location:
Program length: 8 Weeks
Start date: October - January - April
Credential:
Completion of Apprenticeship and Certificate of Qualificiation from the GNWT
Delivery: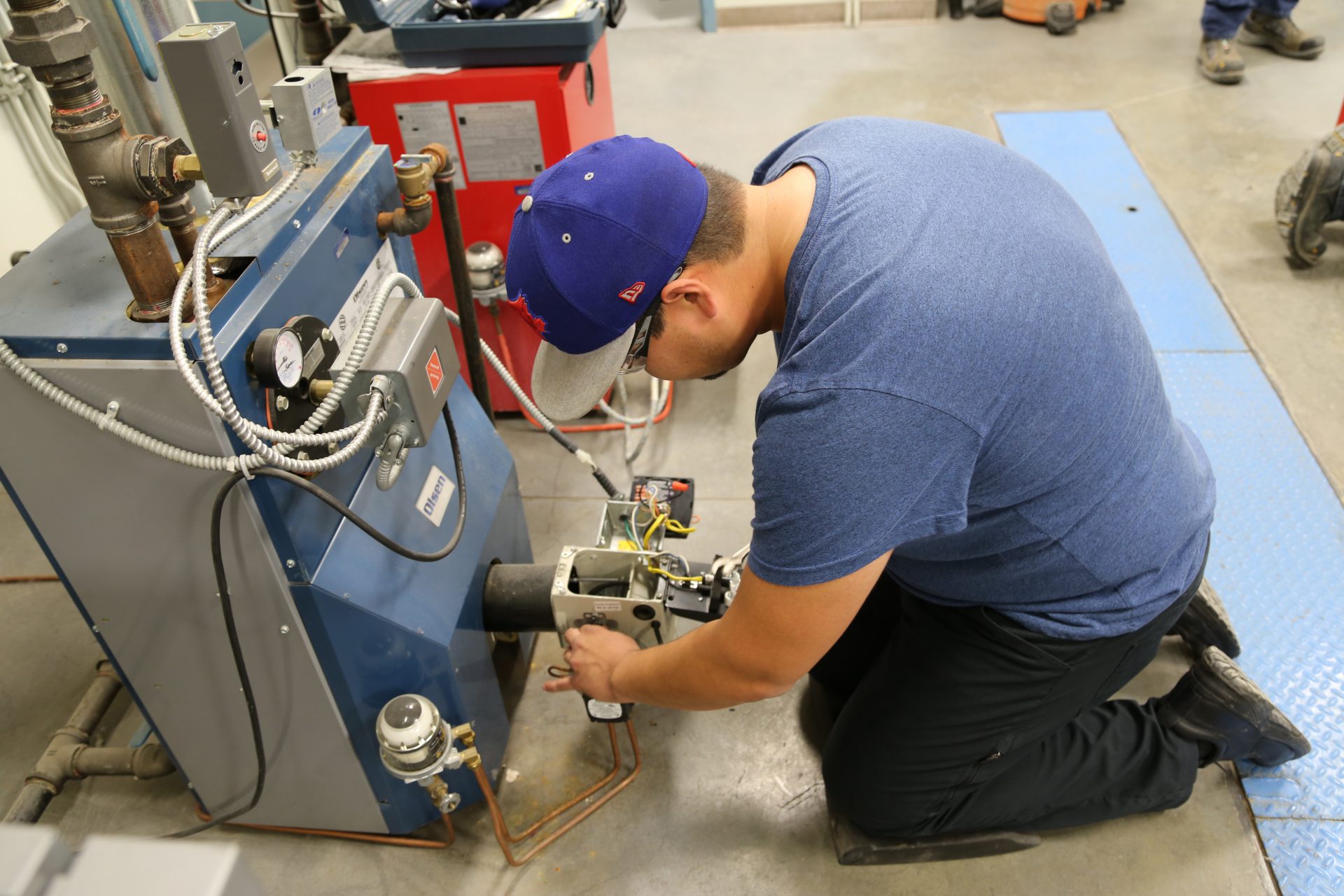 Program Description
The Oil Heat Systems Technician is designed to provide theory and practice in the installation, service, adjustment and repair of high pressure, low pressure, and vaporizing oil burners and in the installation, service and repair of associated oil storage tank installations and piping systems.  Students will also be taught to troubleshoot electrical, mechanical, airflow, and chimney or combustion malfunctions using testing equipment.
The Oil Heat Systems Technician Program is designed for individuals with previous experience in a related trade and provides the technical training required for these individuals to challenge the TQ Exam. It also makes provision for persons not challenging the TQ Exam to obtain knowledge about oil heat systems.
This program outline is based on the 2015 National Occupational Analysis for Oil Heat System Technicians.
Program Eligibility
Program participants must be registered with the GNWT, Department of Education, Culture and Employment Apprenticeship, Trades and Occupation Certification prior to registering at Aurora College.
Eligibility is divided into two separate categories to allow individuals other than Plumber/Gasfitters that have experience in Oil Heat Systems to participate in the OHST Theory.
We are currently updating the Program Eligibility and will be updating shortly, contact the School of Trades Apprenticeships and Industrial Training at 872-7555 for more information.
Applicant Assessment
Program applicants are assessed by the GNWT. Service is accessed through a local career service centre. Anyone wishing to become an OHST apprentice must:
Be at least 18 years of age
Be physically capable of performing the work involved as an Oil Heat System Technician.
Have a genuine desire to become a good tradesperson.
Find a suitable employer who holds a Journey certificate in the OHST trade or employs the holder of a Journey certificate in the trade and who is willing to hire and train the applicant.
Obtain an overall average of 70% and a minimum of 50% in each of the subsections (mathematics, English and science) on the Trades Entrance Examination, Cluster #4.
Program Admission
Participants will be admitted to this program based on the eligibility requirements set by the GNWT.
Program Information
Oil Heat Systems Technicians install, repair and maintain all types of oil-fired domestic and commercial appliances, equipment, components and systems. On new installations, they may design, assemble and install the heating and ventilation systems, install oil burner components such as control devices and associated wiring, install fuel supply systems and connect the plumbing to mechanical and electrical systems. They may also install, maintain and repair wood/oil heating systems. Oil Heat Systems Technicians work in residential, commercial and industrial sectors. This program recognizes similarities and overlaps with the work of other trades such as refrigeration and air conditioning mechanics, gasfitters, plumbers, sheet metal workers, electricians and housing maintainers. Curriculum requirements are set by the GNWT. Participants will be exposed to the program concepts through lectures, discussions, demonstrations, independent study and group study. They will then be given opportunities for skill development through a series of practical applications.
Program Objectives
The graduate of the Oil Heat Systems Technician Program will be able to:
Perform assigned tasks in accordance with quality and production standards required by industry while practicing safety and maintaining a safe work environment.
Install and maintain oil-burning and oil combination liquid medium heating appliances.
Install and maintain oil burning and oil combination warm air heating appliances.
Install and maintain waste oil burners.
Install and maintain fuel supply to oil-burning equipment.
Condition oil-burning equipment and appliances annually.
Condition oil combination burning equipment and appliances annually.
Troubleshoot, repair and replace burners and components.
Troubleshoot, repair, and replace controls.
Troubleshoot, repair, and replace warm-air appliances.
Troubleshoot, repair, and replace liquid medium appliances.
Evaluate existing system and plan new system.
Provide safe and efficient systems.
Remove existing equipment.
Install retrofit systems.
Be knowledgeable of codes, regulations and rules governing oil burner systems.
Be proficient in new and advancing technology.
Completion Requirements
Theoretical and practical assignments and written examinations are used to evaluate participant success.
Course marks are weighted based on a formula provided by the Apprenticeship Trades and Occupational Certification division of Education Culture and Employment.
In order for a participant to pass their apprenticeship level training, they must achieve a theory mark of 65% or greater, obtain a shop mark of 65% or greater and complete all assigned work.
A participant who fails technical training must repeat the training regardless of the result obtained on the level examinations administered by the GNWT.
Participants must achieve a mark of 70% in the GNWT-administered level examination in order to progress to the next level of technical training.
"An apprentice who is absent from a trade instruction course in which he or she is enrolled for more than 5% of the total time of the course may be terminated from that course by the supervisor and be subsequently scheduled to repeat the entire course."
 Article 20 (1), NWT Apprenticeship, Trade and Occupations Certification Regulations
Document of Recognition
Students who enter the program under the first category of eligibility will receive a Record of Achievement Certificate upon successfully completing the program with a 65% passing grade in all courses. Students who complete the program but who do not achieve a 65% passing grade will be issued a Record of Participation Certificate.
Students who enter the program under the second category of eligibility criteria must achieve a 65% passing grade in order to qualify to challenge the Interprovincial Oil Burner Examination. A passing grade of 70% on the IP Examination will earn Red Seal Certification in the OHST Trade.
Important Information
Participants in Apprenticeship programs must be registered Canadian apprentices in the level to which they are applying. Aurora College can accept apprentices from jurisdictions across Canada, however, all participants must be registered with the Government of the Northwest Territories Apprenticeship Division (apprenticeship@gov.nt.ca) prior to registering with Aurora College.
For more information about the above visit: www.ece.gov.nt.ca/en/services/apprenticeship-and-trades